WHAT PEOPLE ARE
SAYING
"In the past I have travelled many times to USA to have very expensive lessons with some of the biggest celebrity vocal coaches.   
Even though I tried many famous vocal coaches and their methods for many years, the results would vary and would not last long.
I came across Bec while searching for different techniques.  After few weekly lessons with Bec addressing my vocal weakness like a targeted laser, I noticed dramatic improvement in my voice.
This was also validated by feedback I received from people who heard improvement in my singing. All of a sudden people that generally didn't want me to sing lead, suddenly wanted me to lead over other singers.
The improvement in 1-2 months with Bec was more than most of my years combined under other leading voice coaches."
– Nick
"Ten lessons down and I progressed far more rapidly and learnt more about how to sing well, than I have in all my life.  Bec's thorough understanding of your voice's anatomy, and the mechanisms that drive it, really help to build a solid foundation for improvement.
I have been seeing Bec for lessons for over a year now and I have learnt so much about my own voice that I never knew before, and I've surprised myself with what I can actually do with my voice.
My main goal was to reach my upper range with a clear sound and I have been able to do that with the help from Bec. There's still some more work to be done to maintain the new technique but I'm honestly loving it and will never fall back to my old ways."
– Mikyla Parsons
"You're right that having a demystified understanding of vocal technique is helpful, but the most important thing I've got out of lessons with you is a sense of peace with how I sound now, and a sense of playfulness to explore how I might sing in different ways.
Very early on, you told me that singing the way I do naturally is a valid form of artistic expression. It's a bit sad that this was a revelation, but it was. From then on, lessons weren't about "fixing" something that was "wrong", they were about developing a different set of tools that I could experiment with to express myself in different ways, when and how I wanted to.
If I want to achieve a particular sound or genre I can, but that's not the only valid aim. The transition from perfectionism to playfulness has fundamentally changed the way I approach singing – which I've always loved. I'm still incredibly shy, but now singing alone on a stage seems like an exciting and one day achievable goal, rather than a dream that I could never actually realise for fear of stuffing up.
I've really appreciated the directness of your technical method, but that attitude shift was even more valuable than any set of techniques."
– Pippa Williams
"This is my first attempt at singing, so I was terrified and worried about falling into lame scales and boring singing exercises. I am very impressed and feel lucky to have Bec's guidance in the last semester.
What makes Bec exceptional is that she does not tell you the "right" way to sing, but rather explains different singing styles and fully understands what is happening in all of the components of the vocal instrument (larynx, tongue, air pressure, muscles and mechanisms involved, etc..)  I found this very useful to play around with different sounds and explore my capabilities.
So far she has helped me to extend my range and get more confidence with singing. A delight to witness her mastery, not only in teaching, but also with practical examples using her own voice or recordings from representative artists. Most importantly, she teaches how to avoid injuries and her classes are very fun!"
– Simon Salinas
"In a very short amount of time, Bec's voice lessons have been able to give me invaluable guidance and practical skills on how to begin understanding the mechanics of my voice, and how I can best access the techniques to achieve my singing goals. A highly skilled and experienced teacher who explains all levels of difficult concepts in easily understandable ways, I can't recommend her highly enough."
– Fiona Steele, Melbourne guitarist, music teacher, singer-songwriter
"After booking my first lesson with Bec, I couldn't have been more nervous or unsure of what to expect from it. Ten lessons down and I am thoroughly glad I didn't back out. In the lessons we've had so far I've progressed far more rapidly and learnt more about how to sing well, than I have in all my life.
Bec's thorough understanding of your voice's anatomy, and the mechanisms that drive it, really help to build a solid foundation for improvement. I find working with her is a relaxed and professional, yet challenging and productive experience. So practice what she preaches as often as possible and I guarantee you WILL hear the results of your hard work. Also your neighbours might thank you."
–  Josh Williams
"Having lessons with Bec has not only taught me so much about the anatomy of my voice but also taught me to have more confidence in myself. Bec is positive, knowledgeable and we are constantly laughing in our lessons together! Thank you for been an awesome teacher and making me want to learn and SING more!"
– Megan Scholey
"As a busy mum, kids are both off to school and finally I'm able to really tap into my creative hobbies. Always being comfortable with other art forms, singing is something that made me feel very vulnerable and something I'd only ever dreamed of being able to do even half decently.
Seeing Bec has really helped me feel comfortable and realise I have the ability to improve (and I have!). I would confidently recommend Bec, as she is warm, very professional, knowledgeable and talented!"
– Vanessa V.
"I always look forward to lessons with Bec. She's fantastic to work with. She has a really fun, positive and genuine way of relating to me as a student, and the lessons are individually designed. She keeps great records and regularly informs me of my progress. I highly recommend her!"
– Tabitha Fletcher
"Bec Tilley has always listened, not just to what my voice is doing when I sing, but also listened to my thoughts on what I want to do with my voice. Bec has always been able to give me practical advice, that I understand, without hesitation, then show that it works.
Bec has been ready to work on as many aspects of singing as I've been able to think of: the anatomical, the emotional, rhythm, clarity, strength, performance, practice and every time I've come up with something else, Bec has been ready to share ideas and show me ways to improve from the level I'm at.
Most importantly, Bec has really encouraged me with her positive manner, by her thoughtful perception and, amazingly, by using my own voice to demonstrate its own possibilities."
– Paul McNally
"After having lessons with Bec my ability to control my voice is a lot stronger and my confidence has grown in leaps and bounds. I'm looking forward to having a go at an open mic, which I would never have done otherwise. To top it all I usually leave with sore cheeks from laughing – thanks for the fun and professional lessons Bec."
– Sophie Buttery
"Working with Bec has helped me improve on both my technique and my confidence. She's such an awesome, down to earth and encouraging teacher. Singing has become a passion and Bec's fantastic teaching has helped me so much along the way!"
– Ruby Jay
"Practical, helpful lessons that have boosted my confidence, preparation, knowledge and skills."
– Hamish Macrae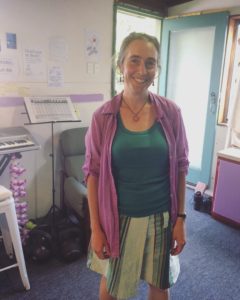 "I found Bec at a workshop she was running, and learned more in 2 hours, about my voice as an instrument, than I could have hoped to learn! After that workshop, I knew she'd be a great choice to have as a vocal coach. Her lessons are packed full of practical information, she explains everything thoroughly and in complete detail, she has a wealth of knowledge and skill, and is wonderful, patient and comfortable to learn from.
My confidence and technique have both soared since taking lessons from her. I would recommend her time and time again!"
– Marie Findlay
"Bec's lessons are always an excellent learning experience which are fun first and foremost every time I go!  I particularly like (and am fascinated by) her attention to detail.  She is able to detect minute details in my singing which I would have never noticed on my own.  Whatever she helps me tweak seems to go a long way and she is amazing at explaining and breaking down her techniques. "
– Alicia S
"At 40 I've been playing music a long time, but being able to sing continually eluded me. I'd been to several other singing teachers over the years paying hundreds per class and learnt nothing. Often just sitting listening to them tell me everything I was doing wrong. I became a shrinking violet. The opposite of who I am in real life!
Bec is a fantastic communicator and listener. Her vocal method is based in anatomy. The way our body really works. She explains and demonstrates it so well and gives me practice to try. To learn. To hear and feel what I am doing with my voice. Bec understands your voice and feelings change with each day and affect each other. She is a sensitive and supportive teacher.
In the first three lessons I stopped constantly hurting my voice and understood it so much better than ever before. I could listen to other singers and understand what they were doing and what I was doing. I've developed my own singing voice and taken it further than I could imagine in a few short months."
– Louisa
"Bec is a very gifted singer and an amazing vocal coach. She is extremely professional and has profound knowledge and understanding of the voice anatomy and its mechanisms.  The way I sang before made me sound hoarse and hurt my voice, which lead me to search for professional help. It is impressive how much Bec helped me, in such a short period, in improving my technique, increasing my range, vocal power, confidence and taught me things about my voice I would never imagine were there.
Apart from all the technical business, sessions with Bec are something that I look forward to every single week. She creates a fun and relaxed atmosphere that makes one hour sessions go by like 5 minutes have passed, you learn a lot, have fun and you laugh a lot!
Last but not least, Bec is always concerned about how you feel and your aspirations as a singer. She is a caring coach and works with you towards your goals.
Well, the list goes on and on, and if you had the patience to read up to here, my advice is: Book a session and see for yourself, I am sure you won't regret!"
– Ricardo Rosendo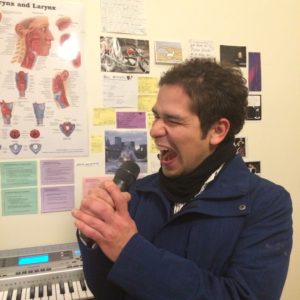 "Bec provides a very thorough overview of how the voice works and how to get the most out of your voice. Bec teaches unique techniques that assist you to overcome any particular challenges you may be having with your singing practice.   Thanks Bec, I definitely feel more confident with my singing since I have been seeing you."
– Kristy Hobson
"I get so much out of my lessons with Bec! She really took the time to understand my voice and my vocal needs. Bec is honest, kind and patient with me as I learn new concepts and skills. I feel like I have a much better understanding of my voice now, which has improved my confidence to explore and challenge myself. I always feel so inspired after my lessons, like I'm fully prepared to practice what I learned and excited to expand my abilities!"
– Jacinta Stevenson
"Thanks for all that you have done for my daughter in the latter part of this year.  She has loved your sessions and has come home with a sense of enjoyment and accomplishment – you can't really ask for much more than that."
– Lisa Mooney
"Thank you Bec for your down-to-earth, friendly and fun teaching style. Your lessons were personalised to be exactly what I needed, a great balance of theory, practice and song.
You got this shy girl to open up and start to knock down her fears and really enjoy singing again.
I look forward to working with you again when I'm back."
– Mel Venn
"…I just wanted to say thank you for all your efforts to improve my singing and vocal performance. You were an amazing mentor and teacher, who got the best out of myself.
You were so thorough and meticulous in your approach and your lessons were always worthwhile. I always looked forward to Wednesdays as I knew that I would learn a new technique that would allow me to be a more efficient and relaxed singer. Your ability to teach these techniques in such a short period of time was outstanding.
Your care for your students was so evident during the showcases, where you demonstrated great pride and empathy.
I feel very privileged to have worked with you, even if for a short period of time."
– Sam Morey
"I've been working with Bec for almost a year now. I started out, having had lessons in the past, mostly focused on polishing some rough edges and learning how to take care of my voice as I'd always found that was about the extent of what other teachers had to offer before they started trying to take me in a direction I just wasn't into.
Working with Bec has been really different and so much more rewarding. Her approach just clicked for me (plus, when something doesn't click she's very patient 😂) and the focus is always on finding a way to help me safely achieve and control the sound I want. Sometimes it's vocal exercises and sometimes it's a (gentle) pep talk but it's always effective. Can't recommend Bec highly enough."
– Anna Barham, Melbourne musician & producer
"I look forward to every singing lesson with Bec. I had never had singing lessons before and was nervous but Bec is very patient and explains the basics clearly and in detail. I get to sing the songs I want to sing. Every lesson is fun!"
– Anne Brewer
"I am so glad I discovered Bec. I have found Bec to be a great singing and vocal teacher and mentor. She has taught me so much about my voice, and the anatomy behind it, and how to practise properly and sing . I always look forward to each lesson where I am always learning and can't wait for my lessons with Bec to begin in 2017."
– Chris Trim
Anonymous responses from student survey, 2017:
"Bec has a lovely manner, puts you at ease, and regularly checks in with how you're going. She is very open to suggestions on the content of lessons."
"I like Bec's style of teaching where you can practice your vocal range."
"Bec is a terrific vocal/singing teacher. Makes you feel comfortable – she goes through technical matters and vocal exercises brilliantly. I have learned so much from her and continue to do she is always there to help you and answer your questions."
"Definitely helped me reach those high notes!"
"Bec does a really good job of making me feel comfortable in the space, which can be difficult at times as I'm not the world's most confident performer."
"You do a great job- love your professionalism when it comes to the business side of things- clarity around payment, class timing, what we can work on and why we are working on it. You're warm and compassionate, this makes trying things that feel challenging, a bit easier. I've grown in leaps and bounds and have found an ability to play with my voice that I've never had before. Thanks Bec!"