To the right is a photo of my vocal folds (aka vocal cords).  They are in the act of phonating (vibrating together, creating sound).  How this photo was taken may surprise you – read on to find out more!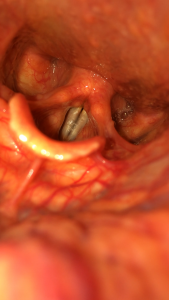 They say you're the average of the five people you spend the most time with; I'm sure this is true professionally, too.  One of my favourite quotes is:
"If you're the smartest person in the room, you're in the wrong room."
So in early November, I took myself into a room full of medically qualified voice experts.
The Australian Voice Association
is a great organisation which brings together vocal professionals from all areas & disciplines; primarily speech pathologists (aka speech therapists), and otolaryngologists (aka Ear, Nose & Throat surgeons or ENTs), as well as singers, vocal coaches & singing teachers like myself.  On Thursday 6th November they held their national satellite seminar at the lovely Baha'i Centre in Hobart.
We enjoyed presentations of research, an interactive workshop introduction to Alexander Technique by local practitioner & physiotherapist Elke Rudolph (fascinating stuff which I hope to study further, as I believe it can be of great assistance to any singers), and I sat on a discussion panel with an ENT and speech pathologist to discuss voice disorders in children after fascinating presentations on the subject by Dr Daniel Novakovic (ENT) and Dr Estella Ma, Associate Professor at Hong Kong University.
There were several presentations from different voice experts to the whole group, as well as smaller group discussions on specific topics.  Later in the evening we enjoyed a reception at Government House including some lovely performances.
At dinner afterwards some mischief occurred – pictured is Dr. Daniel Novakovic "scoping" my vocal folds using the highly scientific tool of my iPhone 5S, over the dinner table, much to the amusement of the assembled company (and the folks at the tables around us).  Don't try this at home, kids – remember that Dr. Novakovic is a qualified medical professional!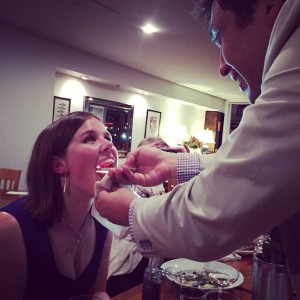 The footage he took was remarkably clear – you can see it below:
In December, I was in Sydney while on tour with Damon Albarn, so I went in to see Dr. Novakovic in his office, and we did a proper endoscopy examination, both oral and nasal.  We did take some footage as I demonstrated various vocal techniques and sounds, and this may be released online at some point.
It was wonderful to attend the AVA seminar and connect with many great voice experts, both ENTs and speech pathologists (many of whom are also singers), and learn more about this fascinating instrument of ours and how to take care of it.  I look forward to the next one!